I decided to make a sunhat and fell in love with this pattern, which I bought from Etsy.
It cost a lot more than I would normally pay for a pattern, partly as it was shipped from America, but I loved the cover illustration and couldn't find a modern alternative I liked as much.
The pattern is just three main pieces plus the same for lining and interfacing. I think it should have been quite quick to sew but I struggled to ease the shapes together and had to redo most of the seams (once each). The hat didn't have as much ease as some sleeve heads I have known, but still. Maybe the ease is necessary to make the hat fit the circumference of the head comfortably, I don't know.
It looks a little crumpled, I think it could be my fabric choice as I used a beige 100% linen taken from a skirt that had seen better days (but the fabric was perfectly good enough for a hat, especially a first attempt). The suggested fabrics were linen, ottoman, gabardine and wool jersey so it was on the fabric list, but linen doesn't give the smooth look the illustration suggests. The lining is quite an open weave cream cotton which I snaffled from my mother a little while ago; I think it originally had a household use such as curtain lining, and that looks a lot smoother. I think if I made the hat again I would go with a thicker cotton fabric. I have always had in the back of my mind
this great hat made by Carolyn
and I think she used some kind of corduroy so I am wondering if a fabric with more body gives a better result. Or it could be just that I didn't really know what I was doing!
Inside hat



I don't know whether using the wrong interfacing might have contributed to the wrinkles, as type of interfacing wasn't specified in the pattern. Maybe years ago everyone knew what kind of interfacing to use for a hat. I went for a fairly heavy and stiff interfacing which works brilliantly with the brim but I am not sure about the crown. If anyone knows if I should have used a different weight please let me know as I may make this hat again despite difficulties.



Hat side - hope you are managing to contain your excitement at this great photo!
Also, I found it tricky to press the small round shapes to my satisfaction when they were joined together. I have the following pressing aids: heatproof mitt, sleeve roll and tailor's ham. None seemed quite the right shape to really get where I wanted to press. What I needed to do was press it on my head, but for obvious health and safety (not to say sanity) reasons that was not an option. Any ideas what I should have used? I expect professional milliners have something exactly suited to this specific purpose.
I was worried with my colour choice the hat might veer dangerously close to cricket/fishing hat territory so I hope this bit of trim has made it look a little less 'practical'.
Here are a couple of pics of me wearing the hat.
Brim down...
...brim up as intended on pattern envelope.
If you would like to know more about
Mr John
the hat designer, there is a nice little biog
here
. Worth a quick read if you are at all interested in fashion history. Here are a couple of his other designs I could have made!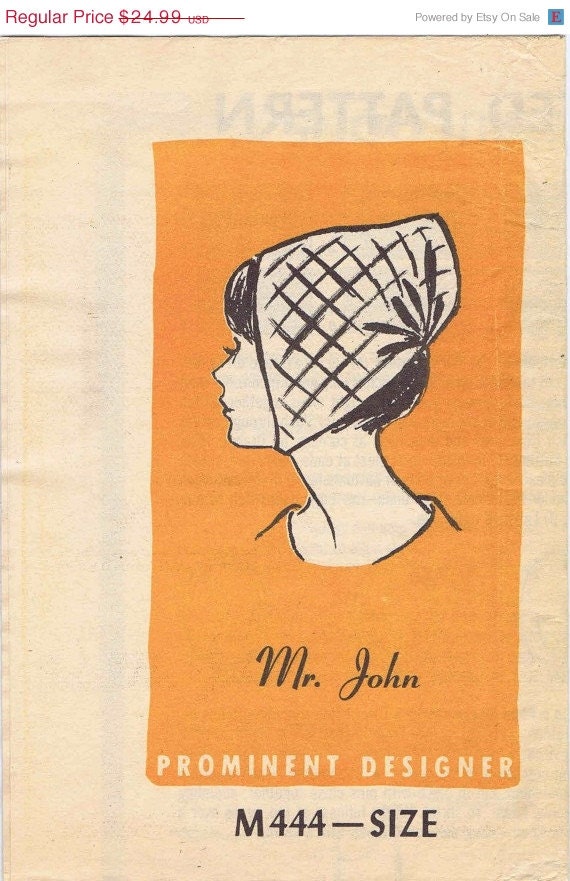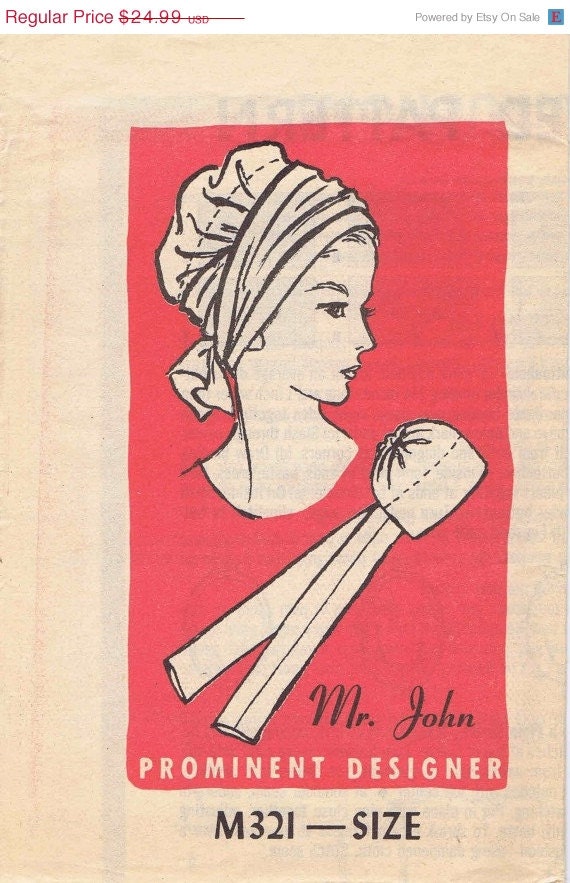 Both for sale through
www.etsy.com/shop/patternshop
which is where I have taken these photographs from. These styles I think have stood the test of time less well but I still find them very appealing, especially the M321 above, as it has a soft peasant look to it and I am quite drawn to peasant styles. I doubt I will make either of these charming hats but if I had sufficient funds I would buy these patterns just to collect and perhaps display in my sewing area.
Finally I discovered while researching whether I should be grading the seam between the brim and sides (so used to grading all internal seams, couldn't get my head around not doing it on
every
internal seam, and instructions on pattern didn't mention it), that
you can make a cloche hat according to your own measurements
using these instructions! So, although this hat was 'free' in terms of materials as I had them all lying around, I could have saved the pattern money, although having said that I am probably too lazy to make my own hat pattern right now, and as mentioned I really like the cover illustration. I have made patterns in the past, but right now I am just concentrating on trying to get my rusty sewing skills up to some kind of standard.

Despite moaning I have actually enjoyed the challenge of making a hat for myself and I would like to try making some other styles too, but the next thing I make will definitely be a garment. Preferably something large with straight sides!!
Giveaway - if you are wondering whether I am going to do my monthly giveaway the answer is yes, I am just majorly behind due to school holidays interrupting my normal schedule (not complaining at all!). Will be posting in next few days, so please check back.
Happy sewing, 'til next time!